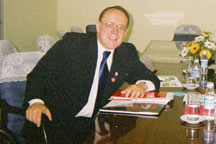 Our core philosophy is truly American, the common man can get things done and that's where the real power to change things is. Our approach is not only very American; it's very Vietnamese, and very Laotian too. It is the 'little guy' that does big things. Added to this is the fact that we are here to stay and help, well after the building is built. Upon leaving each library and site after work is done, I have two important messages I leave with the people: "we will be back" and "this is only the beginning."
Some things we've learned along the way:
1) Doing small charitable projects have big advantages. Our large central Library Projects are $40,000. We envision, someday, a nationwide system of over 600 central libraries in the 600 districts of Vietnam, (in addition to the 100 in Lao) with an unlimited number of smaller satellite facilities ranging in cost from $1,500 to $15,000.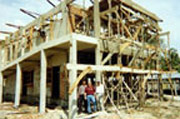 The total would run well over $25,000,000. BUT, this is not a $25,000,000 charitable project. With small individual budgets we can control costs as well. With small buildings we can insure excellent quality control. And with any one project never exceeding $40,000, there is simply no interest by anyone who might think there was some personal gain to be had of any significance, corruption is not an issue.
I have had frank and productive conversations about corruption as to these projects and we have not run into even a hint of it at any time. By doing these as small individual projects we are simply not big enough to get on a potential "ne'er do well's" radar screen.
2.) We spend time with the people. This is a labor of fun in both countries, the Laos and Vietnamese people being such a real pleasure to be around and having great humors. Most NGOS, though doing good work, do not have leaders who spend time to get to know the people that make charity projects go. Our relationships our sound, and personal trust and good feelings abound-and this extends to chairty donors and anyone motivated with the projects.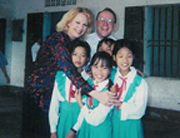 3/ Being American is our number one asset. We carry our heritage proudly. In each venue we discuss history,and the American deep understanding of poverty. I carry my family trees (Father- German, Mother- Irish) with me. Pointing out from when we American come the fact that poverty and disenfranchisement are deep in our national memory and that of our individual families has lead to a sense of common heritage we draw on. And this leads to mutual respect and teamwork.
4.) Optimism is the greatest American trait-we exude it 24 hours a day when on our missions. On MANY occasions, members of the People's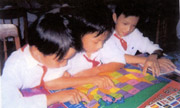 Committees have commented that this is "A happy" project-it looks to the future with excitement and anticipation that, yes, we can touch the stars. As an incurable optimist I may fall prey to some criticism for being a little hokey. But they have had it so tough throughout their histories that its time things changed for the better-the some outlook our ancestors had when they undertook steerage voyages on stormy seas for months just to have a chance for a better life ... again we Americans understand them because we've been there.
5.) We always come back, our relationship lives on after the construction is done and the dedication event held. Any sense of abandonment that may have some historical routes simply is eradicated. We are not just there for a feel-good photo-ops for stateside consumption. We are here to stay to improve these projects and work with the people--the dedication is ONLY THE BEGINNING.